Sudah lima tahun saya jadi penulis blog, kenapa kok ya baru dua hari lalu saya tahu kalau sejak 8 tahun lalu tanggal 27 Oktober telah ditetapkan sebagai Hari Blogger Nasional di Indonesia.
I have become blog writer for five years, howcome it was two days ago I learned 27th October has been set as National Blogger Day in Indonesia since 8 years ago.
Dari delapan tahun yang lalu, coy! Duileee, kemana aje lu, Ke?
Since eight years ago, man!
Sigh, where were you all this time, Keke?
Tapi saya rasa masih banyak penulis blog yang belum tahu tentang Hari Nasional Blogger.
But I think there are many blog writers who don't know about this National Blogger Day.
Saya mencoba googling untuk mencari info tentang sejarah penetapan tanggal 27 Oktober sebagai Hari Nasional Blogger.
Pesta Blogger 2007
Menkominfo: 27 Oktober, Hari Blogger Nasional
Sabtu, 27/10/2007 17:31 WIB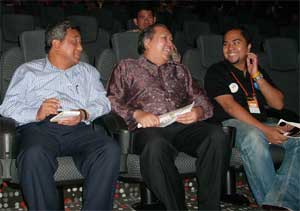 Pesta Blogger 2007 (ash/inet)
Jakarta - Menteri Komunikasi dan Informatika (Menkominfo) Mohammad Nuh tanpa basa-basi mendeklarasikan tanggal 27 Oktober sebagai Hari Blogger Nasional. Momentumnya dibuat seiring Pesta Blogger 2007. Hal itu dicetuskannya saat memberikan sambutan dalam Pesta Blogger 2007 (PB2007), sebuah acara gathering blogger nasional yang diadakan di Blitz Megaplex, Jakarta, Sabtu (27/10/2007). "Hari ini saya nyatakan sebagai Hari Blogger Nasional!" tukasnya disambut tepuk tangan meriah para penulis blog. "Momentumnya sangat tepat untuk mendeklarasikan hari ini sebagai hari blogger nasional. Sebelumnya hal ini belum direncanakan sama sekali," ujarnya kepada wartawan setelah memberi sambutan. Disinggung mengenai langkah selanjutnya dari deklarasi Hari Blogger Nasional dan apakah pemerintah akan membakukan sebuah kode etik bagi blogger, Nuh mengaku hal itu belum dipertimbangkan. "Ini masih awal, belum sampai sejauh itu untuk dipikirkan. Masih yang sederhana saja," tukasnya. Cetusan untuk menjadikan Hari Blogger Nasional muncul pada acara itu secara spontan. Diawali oleh Enda Nasution, Ketua Komite PB2007, dalam sambutannya. Menurut Nuh, blogger memiliki peran dalam hal edukasi dan memberdayakan masyarakat. Ia juga berharap blogger tidak 'malu-malu' atau takut dalam menulis blog. "Kami jamin tidak akan ada pembreidelan," ujarnya dalam acara PB2007. Enda, yang ditemui sewaktu makan siang, mengatakan deklarasi tersebut memang tidak direncanakan. Untuk ke depannya, Enda pun mengaku belum ada rencana spesifik. "Paling tidak sudah ada satu tanggal yang bisa dijadikan momentum. Nanti setiap komunitas atau individu blogger bisa membuat interprestasinya sendiri untuk memperingati hari ini," ia menjelaskan. PB2007 menghadirkan blogger dari berbagai daerah di Indonesia. Mulai dari Anging Mammiri dari Makassar, Go Ranah Minang dari Sumatera Barat, Loenpia.net dari Semarang, Komunitas Blog Jogja hingga blogger yang mewakili komunitas di Poso. Komunitas non-regional seperti Blogfam, id-Gmail, Multiply Indonesia, dan Muslim Blog juga ikut meramaikan acara ini. Keterangan Foto, ki-ka: Menkominfo M. Nuh, Dirjen Aplikasi Telematika Cahyana Ahmadjayadi, dan Ketua Komite PB2007 Enda Nasution. Fotografer: ash/inet. (Wicaksono Hidayat/wsh) courtesy: inet.detik.com
I tried googling the information about the history of appointing 27th October as National Blogger Day.
Saya pikir hebat juga sampai ada hari Hari Nasional Blogger mengingat penulis blog (blogger) berbeda dengan penulis buku atau penulis di media massa yang lebih eksis, lebih tenar, lebih hebat (apalagi kalau tulisannya sering muncul di media massa terkenal atau kalau bukunya terjual sekian ribu copy) dan bisa jadi lebih kaya.
I think it is awesome to have National Blogger Day since blog writer (blogger) is different with book writers or mass media writers who are more exist, more popular, exceptional (especially if their articles are oftenly appeared in well known mass media or if their books have sold for thousands of copies) and probably are also richer.
Adanya Hari Nasional Blogger menunjukkan bahwa Indonesia menghargai dan mengakui keberadaan, peran dan pengaruh para penulis blog.
This National Blogger Day shows that Indonesia appreciate and recognize the existence, contribution and influence of blog .
Hal itu merupakan kejutan tapi juga menjadi kebanggaan untuk saya pribadi.
It really is a surprise but personally it makes me proud.
Karena umumnya penulis blog menulis bukan untuk tujuan komersil. Blogging menjadi penyaluran hobi.
Most blog writer writes not for commercial purpose. Blogging is just a hobby.
Saya, misalnya, mulai senang menulis sejak usia saya tujuh atau delapan tahun. Menulis di buku harian dengan tulisan tangan anak-anak yang masih berantakan dan tidak berurutan pula tanggalnya.
I, for instance, started to write when I was about seven or eight years old. I wrote in my diary with my child-messy handwriting and I didn't make regular entry.
Kesukaan saya menulis itu berguna dalam pelajaran bahasa Indonesia, terutama dalam hal mengarang. Kemudian ternyata juga berguna ketika saya harus menyusun skripsi dan laporan kerja.
My interest in writing has become useful when I was in school, especially in Indonesian language class when the teacher gave essay writing task. Later it was also become useful when I worked on my thesis and when I had to write report at work.
Sayangnya ayah saya tidak setuju ketika setelah lulus SMA saya ingin kuliah di jurusan sastra. Ayah saya menyuruh saya masuk jurusan manajemen perbankan karena menurutnya jurusan sastra tidak memberikan banyak pilihan untuk berkarir dan jelas masa depannya kurang baik.
Too bad my father disagreed when I wanted to study literature after graduating from highschool. My father told me to take banking management as according to him, literature wouldn't give much career option so the future would be bleak.
Hiks.. saya benci dengan angka-angka dan selama dua setengah tahun kuliah, saya harus jungkir balik berkutat dengan angka-angka yang memaksa saya harus belajar dua kali lipat lebih keras kalau tidak mau nilai-nilai saya jadi jeblok. Untung saja saya punya sekelompok teman sekelas yang pintar-pintar tapi semuanya baik serta dengan sukarela mau jadi tutor pribadi saya tanpa bayaran, sampai akhirnya saya dan mereka bisa jadi 12 mahasiswa pertama dari kelas kami yang lulus.
A moment of happiness with my supportive friends in college after the graduation announcement
Sigh.. I hate numbers and for two and a half years I had to juggle my way with numbers and thus had to work double hard if I didn't want to flunk my grades. Luckily I had a bunch of classmates who were kind and supportive, willing to be my free private tutor, made me able to be among them, the first 12 graduated students from our class.
Menulis tetap menjadi bagian dari kehidupan dan diri saya tapi medianya hanya sebatas pada diary. Saya tidak memiliki minat dan juga keberanian untuk mempublikasikan tulisan-tulisan saya.
Writing was still pretty much the part of my life and myself but it was only diary. I had no interest nor confident to publicize my writings.
Baru tahun 2010 saya menjadi penulis blog.
I became blog writer in 2010.
Ketika itu saya masih bekerja sebagai guru TK. Saya ingin ada satu media yang memungkinkan saya untuk melaporkan pada orang tua murid saya tentang kegiatan anak-anak mereka dalam kelas saya dan bagaimana perkembangan mereka.
At that time I worked as kindergarten teacher. I needed a media to enable me to show to the parents of my students of their children's activities in my class and about their progress.
Orang tua murid saya sebagian besar jauh lebih muda dari saya dan itu membuat mereka rata-rata tidak gaptek.
the goofy me with few of my students' parents (2011)
Most of parents of my students are younger than me so they are pretty much updated with internet stuff.
a visit to kindergarten and had an unexpected reunion with moms of my former students (Oct 2015)
Tapi lima tahun lalu pengetahuan saya tentang blogging benar-benar nol. Saya belajar dengan langsung mencobanya.
But five years ago my knowledge in blogging was practically zero. I learned it by doing.
Jadi awalnya semua serba sederhana. Tampilan blog dan gaya menulis saya tidak sebagus sekarang.
So in the beginning everything was so simple. The blog appearance and my writing were not as good as they are now.
Saya tidak berhenti belajar. Itu bagian yang paling menyenangkan dari blogging dan menulis. Tidak ada yang memberikan perintah dan tidak ada yang mengajari. Tidak ada syarat atau batasan. Semua terserah pada si blogger.
I never stop learning. That is the most fun part about blogging and writing. No one gives order and no one lectures you. No condition or limitance. Everything is left to the blogger.
Cocok dengan tipe kepribadian saya yang mencari kebebasan untuk berekspresi.
It fits my type of personality that always look for freedom to express myself.
Menulis dan mengajar adalah dua hal yang saya cintai tapi setahun berikutnya keadaan memaksa saya untuk melepaskan satu dari antaranya.
Writing and teaching are two things I love most but the next year something forced me to let go one of them.
Saya harus kembali kerja kantoran. Sama seperti ketika saya dipaksa untuk mengambil jurusan kuliah yang tidak sesuai dengan minat saya, kerja kantoran menyiksa lahir batin.
I had to go back to office work. It happens again when I was forced to major in something that is not in my interest, office work is a torture both physically and mentally.
Ketika saya menjadi guru, saya menjadi diri saya sendiri sepenuhnya, seluruh jiwa saya ada didalamnya.
When I become a teacher, I become myself completely, I have all my soul in it.
Ketika saya bekerja kantoran, saya tidak menyertakan hati dan jiwa saya didalamnya, saya lakukan itu karena saya memerlukan uang. Mereka mengatakan saya adalah anak berbakti pada orang tua tapi saya hanyalah pemain sandiwara terbaik, seorang pelacur yang menjual jiwanya demi kebutuhan ekonomi.
When I become office worker, I exclude my heart and my soul, I do that for money. They said I am loving child, dedicate myself to my parents but I am nothing but a great actor, a whore who sold her soul for money.
Menulis menjadi tempat dan saat dimana saya kembali menemukan hati dan jiwa saya, ketika saya bisa menanggalkan topeng kepura-puraan itu dan kembali menjadi diri saya seutuhnya.
Writing becomes a place and moment when I get back my heart and soul, when I can take off the mask and become myself.
Saya menulis hal-hal yang membuat saya bahagia, sedih, kesal, takut, cemas, marah. Saya memuji; saya memaki. Saya memberikan inspirasi; saya membuat orang prihatin.
I write about the things that make me happy, sad, upset, afraid, worry, angry. I make complimentary; I curse. I inspire; I make people concern.
Karena melalui tulisan-tulisan saya di blog ini, saya mengajak orang untuk masuk ke dalam pikiran saya, memahami jiwa saya dan melihat dunia saya melalui mata saya.
Because through my writings in this blog, I take people into the deepest mind of mine, to understand my soul and to see the world through my eyes.
Tulisan-tulisan ini memiliki napas karena saya menuliskannya dengan seluruh hati dan jiwa saya.
These writings have their breath because I write them with all my heart and my soul.
Menulis membuat saya merasa kembali hidup.
Writing makes me feel alive again.
Tekanan hidup dan manusia-manusianya ingin mengambil kehidupan itu dari saya tapi menulis mengembalikannya pada saya.
The pressure in life and people try to take life from me but writing has brought it back to me.
I love blogging. I love writing. I love to feel alive.
Happy National Day to all blog writer